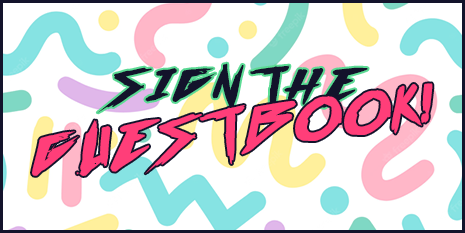 Thank you for visiting, won't you sign the guestbook?
8:06pm 12-05-2023

Anonymous

Welcome home, lost souls.
https://lostsouls.me/
1:27pm 04-18-2023

Suzanne

a beautiful page with an adorable layout!

💖💖💖💖💖💖💖💖💖💖💖💖💖💖💖

https://empeethree.neocities.org/
4:26am 10-06-2022

User

Hello everyone!
2:58pm 08-17-2022

Bobbi

Love the vibe of this site
6:23pm 03-29-2022

woofs

I luvvv coming across little independent projectz like this so finding an adorable lil brand like this on the new old web was such a treat :3 !!
Replied on: 12:52pm 06-12-2022

Thank you, that really means a lot to me!
10:30pm 03-29-2021

David

i love this for the smilies alone
1:28pm 12-23-2020

Rei

Thank you to everyone who has signed the guestbook so far! I really enjoy peeking in here every now and then to see what has been written.
2:31pm 12-22-2020

Kelsey

This takes me back to a a much simpler time. I love it!
11:28pm 12-05-2020

Tabitha

Wow, it's been FOREVER since I signed a site's guestbook!
5:21pm 11-30-2020

s1m0n3

Carlton!!!! <3
It has been a long time since I enjoyed peering at Neocities sites, but Carlton beats everyone.
6:43pm 09-24-2020

Bridge St. Germain

Love the look of the site! Can't wait to see what you have to sell!
4:33pm 09-21-2020

Marna Larsen

Love the new look! Can't wait for the new product line!!
2:52pm 09-21-2020

T.S. Vahland

Beautiful!
11:07pm 09-16-2020

Sam

Love the new site! Especially in love with your splash page.
12:05pm 09-16-2020

Grace

It's so retro I'm having flashbacks! Love it!